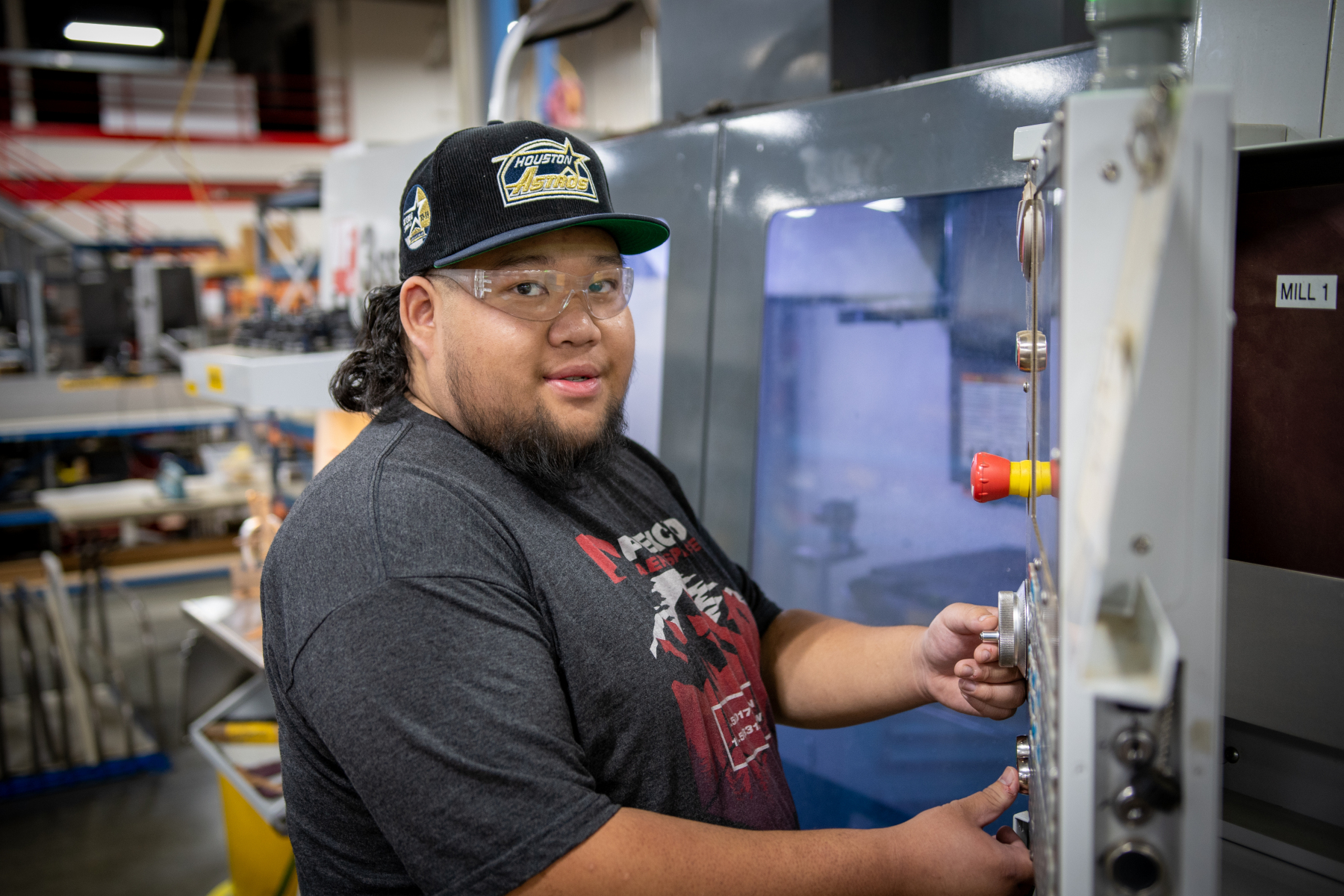 Graduate Spotlight: Tyler Chanthavong
Sep 26, 2023
Graduate Spotlight: Tyler Chanthavong
Reprinted by permission
Article by Andrew Norman, Director of Human Resources, Pexco Aerospace
Founded in 1973, Pexco Aerospace is a world-leading manufacturer of aircraft-related components and assemblies for commercial aerospace applications. Our highly engineered solutions have been utilized on thousands of programs and critical applications, including many of the most innovative and groundbreaking programs such as the Boeing 787. Headquartered in Union Gap, Washington, Pexco Aerospace has long been recognized as the leading supplier of plastic extrusions and fabrications by Boeing and many other aerospace OEMs, providing quality, custom products that meet the most demanding standards.
Pexco Aerospace was hit hard by the 737 Max production shutdown followed by the COVID-19 pandemic. We were forced to lay off 150 employees, temporarily shutdown our AJAC apprenticeship program, stop community outreach, and cancel all employee events for nearly 2 years. Pexco weathered the storm with a core group of long-term employees and we're now focused on building our future workforce.
Pexco projects the need to hire 60+ employees over the next 3 years and that trend will only grow. Rebuilding is proving to be a challenge with several obstacles to overcome.
The number of 16–24-year-olds entering the workforce is at an all-time low. The 55+ labor force participation is not recovering to pre-pandemic levels. The Yakima County unemployment as of June 2023 is at an all-time low of 3.7%
The bottom line is there are not enough workers to fuel Pexco's growth.
Given all the obstacles in the way of Pexco's growth, we're focused on solutions and building a winning team. Since the pandemic ended, we have brought back 25 employees that were laid off, restarted our AJAC apprenticeship program through West Valley High School, rebuilding employee engagement, and giving back to the community we serve.
The AJAC apprenticeship program is key to our future.
It is a 2,000-hour program designed for high school juniors and seniors to develop career-ready skills in advanced manufacturing. This program combines paid on-the-job training and college-level classroom instruction which can lead to a high school diploma, nationally-recognized journey-level certification, and tuition-free college credits.
During their time at Pexco, apprentices acquire a robust skill set encompassing the operation of 5-axis routers, mills, lathes, and waterjets. Their daily engagement with these machines culminates in the creation of refined products destined for aircraft cabin installations. However, their apprenticeship program transcends mere machine operation. They instill vital real-world work experience, nurturing qualities such as punctuality, workmanship, and reliability—fundamental attributes for a promising future as young adults. Their journey is accompanied by a seasoned Machinist who serves as their mentor, imparting profound insights into both product intricacies and the fabric of Pexco's culture.
Since the pandemic has ended, Pexco has enrolled four AJAC apprentices. Upon completion, some apprentices want to get a college degree, and some want to stay local and join the workforce immediately after high school. Pexco focuses on the long-term relationship with the apprentices. Apprentices that go off to college often come back to work the summers at Pexco. We've positioned ourselves as the best place to work in the Yakima Valley and we're confident when apprentices go off to college, they will come back to Pexco in the future. We're proud to announce that we just hired an apprentice, Tyler Chanthavong, as a full-time CNC Operator.
As a manufacturing company that is facing the same workforce development challenges as our neighboring companies in the Yakima Valley, one idea remains constant—as an industry we must think outside the box on how companies are going to meet the needs of our customers by having skilled workers who can get the job done. Traditional methods of job fairs and job boards can only take you so far.
I would encourage other employers who can relate to this issue by considering apprenticeship as a tool in your tool kit. There is no cost to us, the employer, to have AJAC's apprenticeship offered to our employees. They have a dedicated staff not only here in Yakima, but across Washington State ready to fully support your employees to ensure they are set-up for success on their journey.
Now is the time to rethink your recruitment strategy and take a hard look at the young adults in our very community who are eager to apply what they are learning in high school to the shop floor.
---