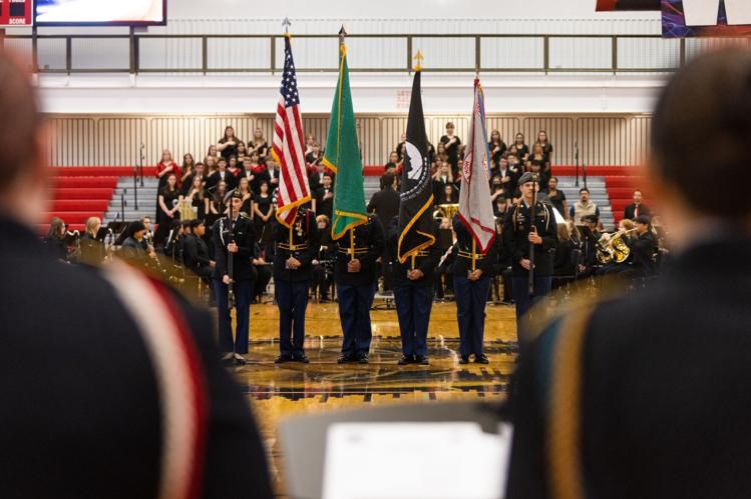 Veterans Day Assembly
Oct 31, 2023
WVHS Honors Veterans with Special Assembly
In an annual tradition filled with solemnity and gratitude, West Valley High School (WVHS) honors United States veterans with an all-school assembly on Thursday, November 9, 2023. This year, the school is set to welcome alumnus Gary Merritt — a distinguished WVHS graduate who served in the US Army's Human Intelligence division during the Vietnam War — as the special guest speaker.
The annual ceremony begins with a heartfelt rendition of "Taps" and the reading of the fallen soldiers' names from the WVHS Book of Remembrance. Gold Star families — those who have borne the heavy burden of losing a loved one in service — are recognized and cherished during this moment of remembrance.
The school's Cadets play a pivotal role in the event, showcasing a well-executed Honor Guard with sabers. As the combined West Valley Bands play the stirring Armed Forces Melody, veterans from World War II, Korea, Vietnam, Iraq, and Afghanistan walk through a tunnel of appreciation to be honored for their service. It's a moment of profound gratitude for the sacrifice and dedication of these individuals.
The event is further underscored by the presentation of the United States colors by the West Valley High School JROTC Color Guard and the National Anthem performed by the West Valley Choir.
The day's schedule is thoughtfully planned to allow veterans to spend quality time with students, enjoying coffee, donuts, and breakfast at 8:15 am. During Ram Strong class, character-building lessons are merged with the experiences of veterans, providing a living history that demonstrates the values of strength, courage, and resilience. After the assembly, which begins at 9:15 am, veterans visit classrooms during third period, and many continue to stay throughout the day, engaging with Cadets in the West Valley High School JROTC program and discussing American military history.
The significance of this commemoration goes far beyond an assembly, however. WVHS holds a deep connection with the Vietnam War, as many of its alumni served in that turbulent era, some of whom paid the ultimate sacrifice. These heroes are eternally remembered and enshrined on the West Valley Fallen Heroes Memorial Wall as KIA (Killed in Action) Soldiers. Their names, etched in stone, serve as a poignant reminder of the school's commitment to preserving their memory and honoring their sacrifice.
This annual event — and the continual honoring of veterans — would not be possible without the dedication of the school's leadership, including Principal Ben McMurry, Colonel Brian James, Master Sergeant Gregory Bynum, and the WVHS JROTC Cadets who put in tremendous effort to make this day of remembrance a reality.
Thank you to all our veterans for your service. Any veteran who would like to attend the assembly on Thursday, November 9, can contact Col. Brian James or MSgt. Gregory Bynum.

WVHS rinde homenaje a los veteranos con una asamblea especial
En una tradición anual llena de solemnidad y gratitud, West Valley High School (WVHS) rinde homenaje a los veteranos de Estados Unidos con una asamblea escolar el jueves 9 de noviembre de 2023. Este año, la escuela contará con la presencia del exalumno Gary Merritt, un distinguido graduado de WVHS que prestó servicio en la división de Inteligencia Humana del ejército estadounidense durante la guerra de Vietnam, como orador invitado especial.
La ceremonia anual comienza con una sentida interpretación de "Taps" y la lectura de los nombres de los soldados caídos del Libro del Recuerdo de WVHS. Las familias de las Estrellas Doradas, que han soportado la pesada carga de perder a un ser querido en acto de servicio, reciben reconocimiento y aprecio durante este momento de recuerdo.
Los cadetes de la escuela desempeñan un papel fundamental en el evento, presentando una guardia de honor bien ejecutada con sables. Mientras las bandas combinadas de West Valley tocan la conmovedora Melodía de las Fuerzas Armadas, los veteranos de la Segunda Guerra Mundial, Corea, Vietnam, Irak y Afganistán atraviesan un túnel de agradecimiento para recibir un homenaje por su servicio. Es un momento de profunda gratitud por el sacrificio y la dedicación de estas personas.
El acto se ve realzado por la presentación de la bandera de Estados Unidos por parte de la Guardia de la Bandera del JROTC de West Valley High School y el himno nacional interpretado por el coro de West Valley.
El horario del día está cuidadosamente planificado para permitir que los veteranos pasen tiempo de calidad con los estudiantes, disfrutando de café, rosquillas y desayuno a las 8:15 a. m. Durante las clases de Ram Strong, las lecciones de formación del carácter se fusionan con las experiencias de los veteranos, proporcionando una historia viva que demuestra los valores de fortaleza, valentía y resistencia. Después de la asamblea, que comienza a las 9:15 a . m., los veteranos visitan las aulas durante el tercer período, y muchos se quedan durante todo el día, interactuando con los cadetes del programa JROTC de West Valley High School y hablando sobre la historia militar estadounidense.
Sin embargo, la importancia de esta conmemoración va mucho más allá de una asamblea. WVHS mantiene una profunda conexión con la guerra de Vietnam, ya que muchos de sus exalumnos prestaron servicio en esa época turbulenta, algunos de los cuales sacrificaron su vida. Estos héroes serán recordados y honrados para siempre en el Muro Conmemorativo de los Héroes Caídos de West Valley como soldados caídos en combate (KIA, por sus siglas en inglés). Sus nombres, grabados en piedra, son un recordatorio conmovedor del compromiso de la escuela de preservar su recuerdo y rendir homenaje a su sacrificio.
Este acto anual, y el continuo homenaje a los veteranos, no sería posible sin la dedicación de los directivos de la escuela, entre ellos el director Ben McMurry, el coronel Brian James, el sargento mayor Gregory Bynum y los cadetes del JROTC de WVHS, que realizan un enorme esfuerzo para hacer realidad este día de conmemoración.
Gracias a todos nuestros veteranos por su servicio. Los veteranos que deseen asistir a la asamblea del jueves 9 de noviembre pueden ponerse en contacto con el Coronel Brian James (jamesb@wvsd208.org) o con el Sargento Mayor Gregory Bynum (bynumg@wvsd208.org).
---